Simulation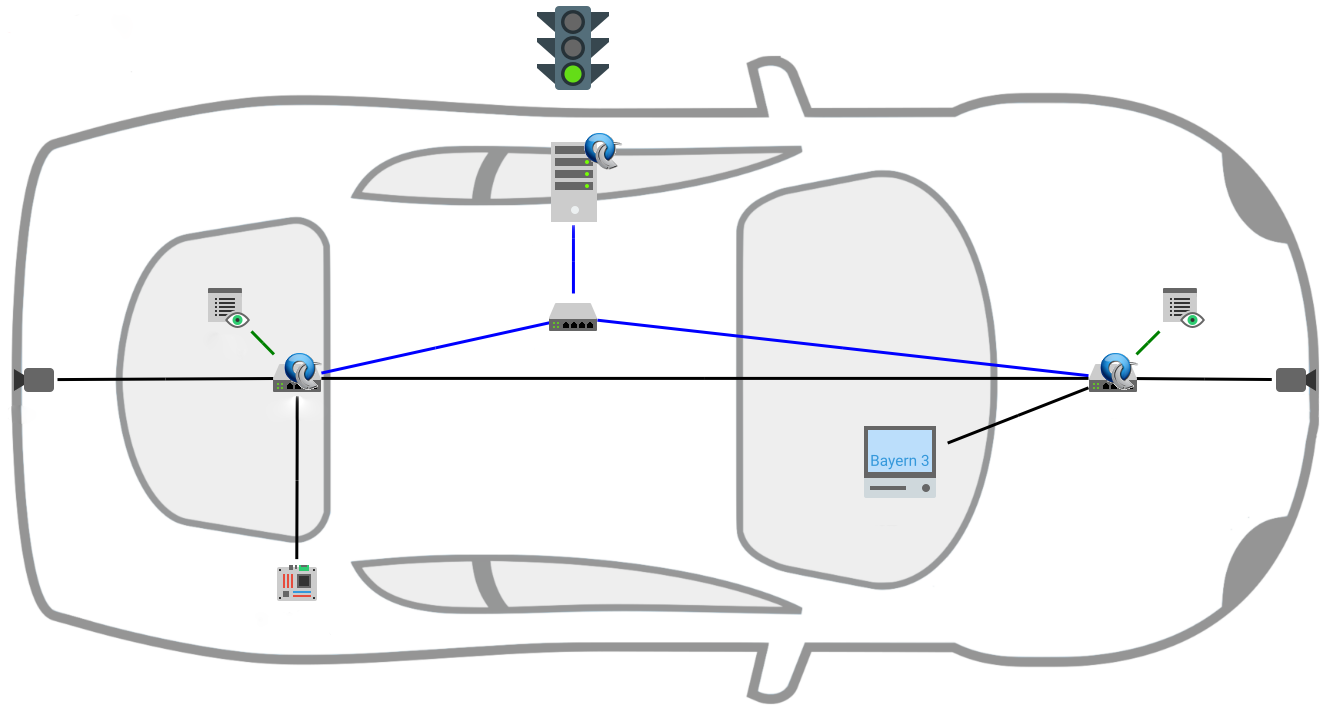 Simulation tools are of vital importance to explore the technical feasibility and facilitate the distributed process of vehicle infra­struc­ture design. CoRE is working on simulation models for the event-based simulation of real-time Ethernet networks. Our simulation models are published as open-source module.
To evaluate the feasibility of an Ethernet-based unified communication infrastructure for future in-vehicle applications, it is important to identify characteristic and comparable network metrics. A future option of technological and economic success can be only made on the ground of these valid performance estimates. Further, a detailed quantitative analysis allows for optimisations, including a critical view on proposed solutions, and can be used to rate improvements of the components and protocols. Event-based simulation is suitable for these analyses and provides the necessary performance estimates. Since automotive applications have very strict requirements – usually the temporal precision must be within a few microseconds – it is necessary to simulate the temporal behaviour with high accuracy.
During the development process of a car, several service providers and suppliers are involved. Different components are designed by various partners. The Original Equipment Manufacturer (OEM) is responsible for the design and configuration of the in-vehicle communication infrastructure. Temporal attributes and information about the load of an in-vehicle backbone are necessary at an early stage of the development, when the components are not yet available. Further extensions and build-to-order variants must be regarded and result in a large configuration space. Thus, a simulation-based evaluation strategy is indispensable for the design of an in-vehicle backbone. It allows the evaluation of different configuration parameters before construction and in a more comprehensive manner. Requirements for suppliers and service providers are assigned based on the simulation results.
All tools are designed for an efficient workflow. With help of the Abstract Network Description Language (ANDL) a network can be described in a system-level degree of abstraction. Ethernet components, CAN busses, gateways and different ECUs are connected. The stimuli generators and protocols be parameterized according to the degree of abstraction. After the generation process a runnable simulation configuration is available. This configuration uses the CoRE simulation models. The network simulation execution genrates the result files. This results are available in the form of vectors and scalars. The analysis can be performed using tools integrated in OMNeT ++ or other external tools.

CoRE4INET is an extension to the INET framework for the event-based simulation of real-time Ethernet in the OMNEST/OMNeT++ simulation system. It provides real-time Ethernet protocols like AS6802, AVB and TSN. FiCo4OMNeT is an open-source simulation model for the event-based simulation of Fieldbus technologies in the OMNEST/OMNeT++ simulation system. It enables the simulation of CAN and Flexray technologies. SignalsAndGateways using both to enable a heterogeneous network simulation. It includes gateway components to connect Ethernet and Bus communication. SOQoSMW is an extension of the CoRE simulation models for the event-based simulation of service-based communication in real-time Ethernet networks. It provides middleware components and applications for services as well as gateway components, which are compatible with the SignalsAndGateways models. SDN4CoRE (Software-Defined Networking for Communication over Realtime Ethernet) is an open-source extension for the event-based simulation of programmable (software-defined) real-time Ethernet networks in the OMNeT++ simulation system. It uses the OpenFlow framework and provides additional programming mechanisms such as NetConf to allow the programming of real-time Ethernet components via controller applications.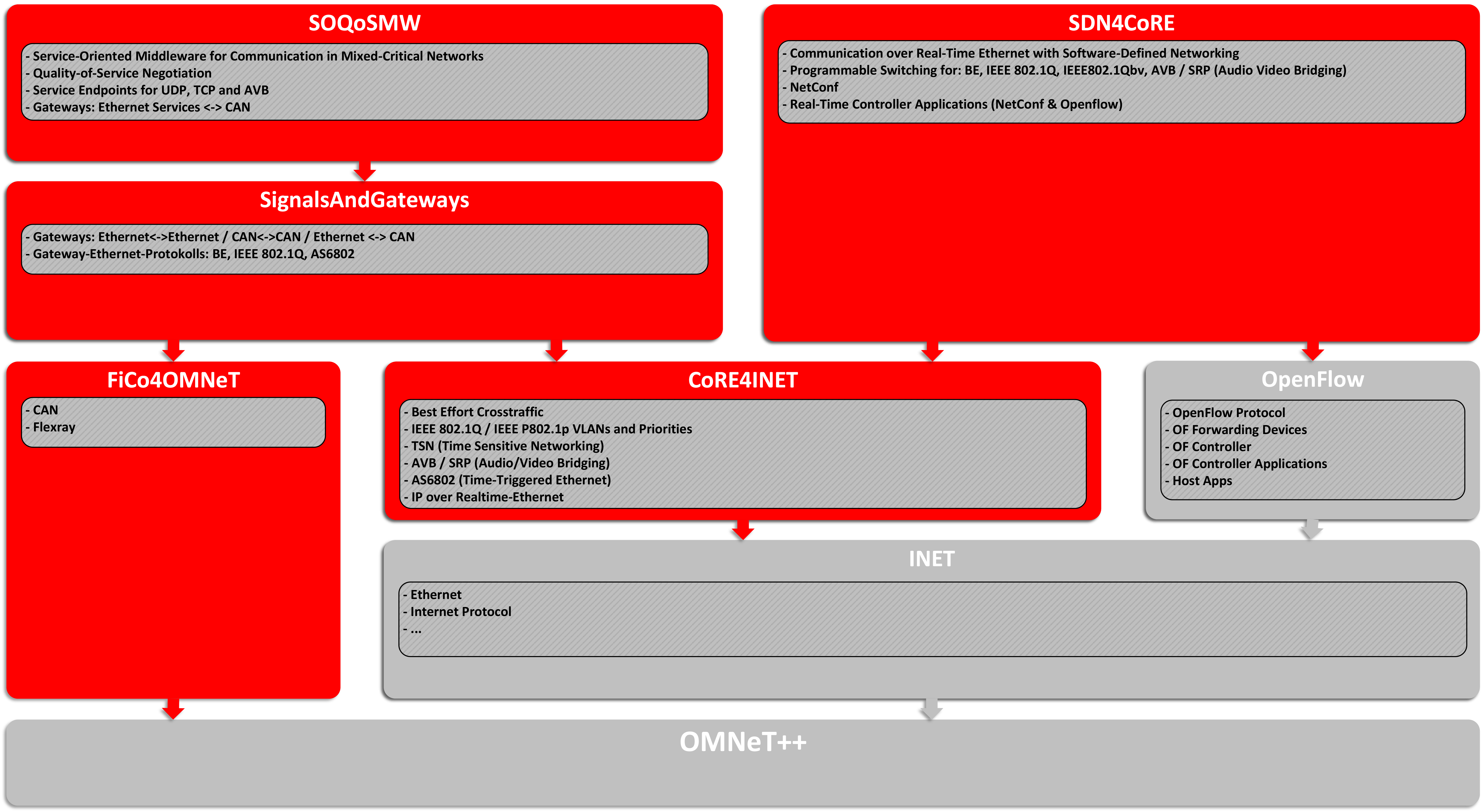 Quick Start
Step 1: Download OMNeT++ 5.5.1
Step 2: Install OMNeT++
Step 3: Get INET framework 3.6.6
Step 4: Install CoRE plugins
OMNeT++ IDE -> Help -> Install New Software…
Check [Abstract Network Description Language], [CoRE Simulation Model Installer] or [Gantt Chart Timing Analyzer].
Step 5: Get CoRE frameworks
GitHub: Clone or download the desired frameworks -> Github Site
CoRE Simulation Model Installer: OMNeT++ IDE -> Help -> Install CoRE Simulation Models…
See the Doxygen Documentation
Start the examples in the installed frameworks
An Extension of the OMNeT++ INET Framework for Simulating Real-time Ethernet with High Accuracy

Proceedings of the 4th International ICST Conference on Simulation Tools and Techniques
Simulation und Evaluation von Echtzeit-Ethernet in Fahrzeugnetzen
Simulation of Mixed Critical In-vehicular Networks

Recent Advances in Network Simulation
Further publications can be found in the publications section.

Links: